By Brittany Kimber and Matt Hartzell
Alabama 4-H recently announced the 2019 4-H Volunteers of the Year at a recognition and awards program during state 4-H Competitive Events Day.
As the youth development and education program of the Alabama Cooperative Extension System, 4-H helps foster skills in Alabama's young people  The success of county and state programs is largely dependent on support from volunteers.
Among the seven volunteers honored were Tessa Mayfield of West Blocton, longtime Bibb County 4-H Volunteer who leads the Bibb County 4-H Chick Chain and Poultry Club with Bibb County 4-H Foundation Agent Simon Carbone.
Mayfield has also helped with other 4-H programs such as 4-H after-school programs at elementary schools, 4-H Bibb County Youth Leadership, and the monthly general 4-H Club meetings at Brent Senior Center.
"Tessa has been indispensable as one of our 4-H volunteers in Bibb County. She has a heart of gold, a tireless work ethic, and most of all, a positive attitude while balancing a busy family life, battling health issues and being a substitute teacher for Bibb County Schools," said Matt Hartzell, Bibb County Extension Coordinator.
4-H volunteers were selected by region.  "This year's 4-H Volunteers of the Year were selected by the 4-H staff in their region and represent the best of our outstanding 4-H volunteers," said Nancy Alexander, Alabama 4-H Extension specialist. "Their 4-H stories demonstrate how they each go above and beyond the call of duty to make an impact in their clubs and county."
During the last club year, more than 8,930 volunteers assisted local 4-H clubs. In addition, the volunteers contributed 165,701 hours to 4-H programs, valued at $4.2 million or an estimated 82 full-time employees.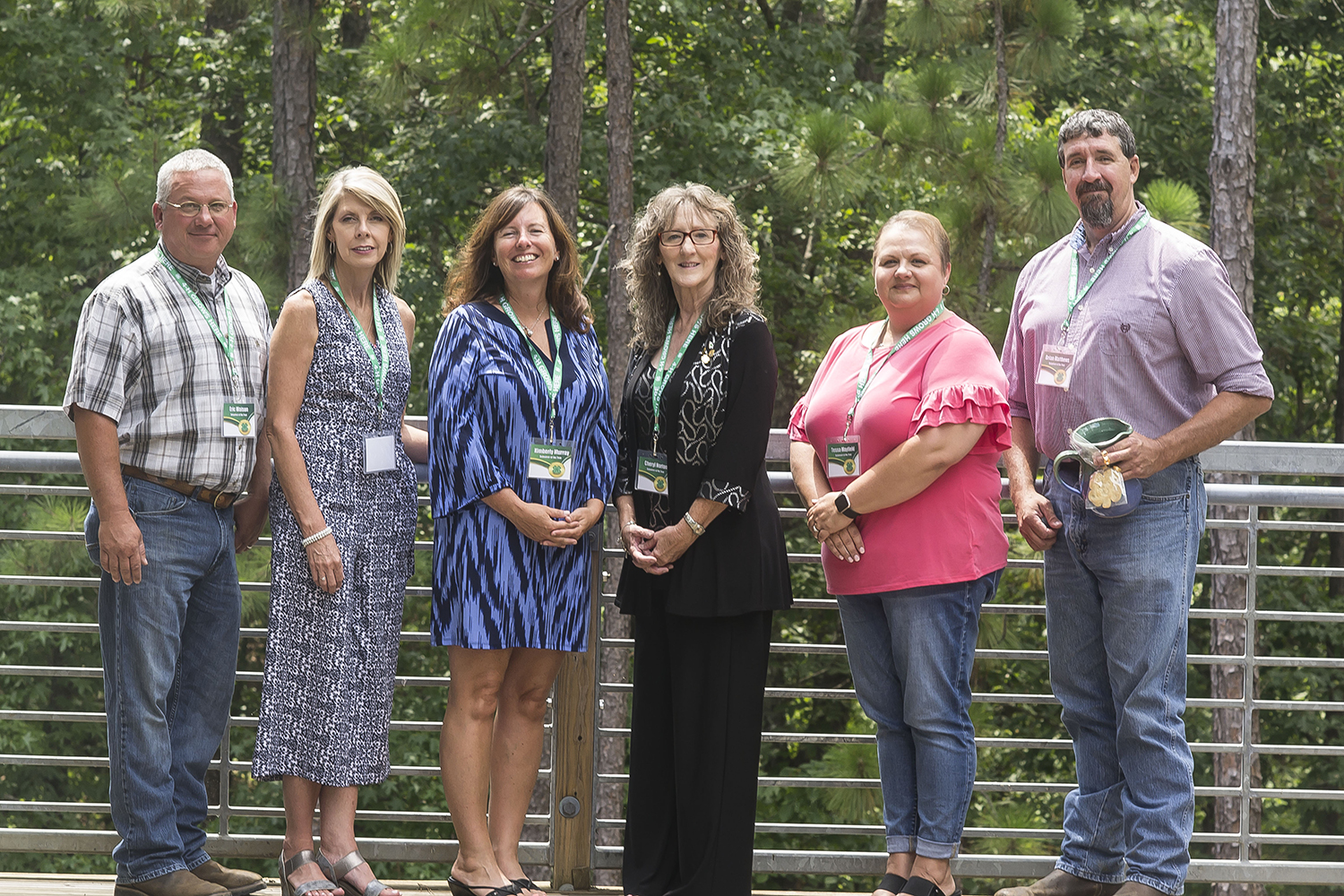 Pictured from left are: Eric Watson, Amanda Newman, Kimberly Murray, Cheryl Horton, Tessa Mayfield and Brian Matthews. Not pictured is Lorena Ponce.
These individuals were willing to share their time, talent, creativity and skills to support the youth in their communities. They also worked cooperatively with families and Extension staff to provide a positive model of behavior for youth.
"Volunteers extend the reach of 4-H Foundation Regional Extension Agents to provide life-changing opportunities for Alabama youth," said Gary Lemme, Alabama Extension director. "Alabama 4-H provides life-changing lessons in a wide variety of program areas. Without volunteers, Alabama 4-H could not reach 178,000 youth. These volunteers are 4-H heroes who are making the best better."
For more than 100 years, Alabama 4-H has been helping young people develop into resourceful citizens and responsible leaders. Alabama 4-H uses regional Extension agents as well as community volunteers, corporate partners, alumni and parents to deliver youth development programs in all 67 counties.
Today, Alabama 4-H engages with more than 178,000 youth. It seeks to empower them with skills to lead their communities and become future leaders.
For information about 4-H in Bibb County, visit www.alabama4h.com, call 205-926-4310, or contact Carbone directly at 205-340-1159 or sjc0032@aces.edu
The Alabama Cooperative Extension System (Alabama A&M University and Auburn University) is an equal opportunity educator and employer.  Everyone is welcome!